Sergey Goncharov
| | | | |
| --- | --- | --- | --- |
| FAU Erlangen-Nürnberg |   | Room: | 11.156 |
| Chair for Theoretical Computer Science |   | Phone: | +49-91-3185-64031 |
| Martenstraße 3 |   | Fax: | +49-91-3185-64055 |
| D-91058 Erlangen |   | E-Mail: | Sergey.Goncharov@fau.de |
About me
I am a researcher at Chair for Theoretical Computer Science of Friedrich-Alexander University of Erlangen and Nürnberg. My research interests include (but not limited to):
computational monads and side-effects
program logics (with side-effects)
semantics and foundations of computations
(universal) algebra, coalgebra, and category theory
hybrid systems
Jobs
Open PhD position in a  DFG-project "Abstract Techniques for Programming Languages and Secure Compilation" 
Committees
Mission
I am concerned with the basic research in the area of formal semantics of specification and programming languages. My work is thus oriented towards identification of the general idioms and principles pervasively appearing in these areas, to allow for a conceptual unification of various approaches to ensure both a high level of generality and practical meaningfulness.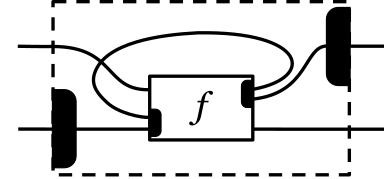 With this in mind, I am studying and contributing process algebra, computational monads, fixpoint calculi, Kleene algebra, formal languages and automata theory.
In more detail, my view is recently summarized in the abstract to my habilitation thesis. My recent work revolves around the notion of guarded traced monoidal category.
News
DFG-Funded Project `Abstract Techniques for Programming Languages and Secure Compilation (ATLaS)` (joint with Stelios Tsampas) granted (1 PhD position available, please mail me, in case of interest!)
Representing Guardedness in Call-by-Value accepted at FSCD 2023
Weak Similarity in Higher-Order Mathematical Operational Semantics (Henning Urbat, Stelios Tsampas, Sergey Goncharov, Stefan Milius, Lutz Schröder) accepted at LICS 2023
DFG-Project Higher-Order Monad-based Programming and Reasoning (HOMBRe) granted
Uniform Elgot Iteration in Foundations accepted for ICALP 2021
Implementing Hybrid Semantics: From Functional to Imperative accepted for ICTAC 2020 (extened version on ArXiV)
Towards Constructive Hybrid Semantics accepted at FSCD 2020 (see https://github.com/sergey-goncharov/hybrid-agda for the accompanying Agda implementation)
Local Local Reasoning: A BI-Hyperdoctrine for Full Ground Store accepted at FoSSaCS 2020
A Metalanguage for Guarded Iteration (Sergey Goncharov, Christoph Rauch, Lutz Schröder) wins best paper award at ICTAC 2018
A Semantics for Hybrid Iteration (Sergey Goncharov, Julian Jakob, Renato Neves) accepted for CONCUR 2018
Guarded Traced Categories (Sergey Goncharov, Lutz Schröder) wins EATCS Best Theory Paper Award at ETAPS 2018
DFG-Project A High Level Language for Programming and Specifying Multi-Effect Algorithms (HighMoon II) granted.
Unifying Guarded and Unguarded Iteration presented at FoSSaCS 2017
Publications
Here is the list of my scientific publications. Cf. me on DBLP and on ResearchGate.
Recent Talks
Teaching